There is no particular answer because there are many reasons that wreak havoc on camera lenses. In its lifetime, a fair share of camera gear gets damaged. Still, camera lens damage is the most common one that most cameramen are familiar with.
How to quickly ruin a camera and its lens? Any occupational hazard would be a straightforward answer. But the pain accompanied by this event is hard to bear.
You won't be able to capture images. Depth of field, focusing distance, ultra-high resolution, and image quality—you are going to miss it all. Meanwhile, the question that is likely to daunt you the most is: why are camera lenses so expensive?
After all, they are genuinely an expensive deal.
Camera lenses for a basic model can cost between $100 and $400. For advanced enthusiasts and pro photographers, the expense can range easily from $700 to $11,000. But what makes this little thing so expensive? Read on to learn the whole matter.
What are lenses, and how do they work?
Camera lenses are basically a series of glass plates mounted on the camera's body. These lenses can be concave (curved inward) or convex (curved outward), which aids in the precise capturing of the object.
These lenses in camera devices like DSLRs direct light to a digital sensor within the body, where all images are recorded on the film strip. In the event that the camera lenses don't deliver light to the digital sensors appropriately, a blurred image is possible, or the camera might fail to deliver the desired outcome. However, each lens has a different story and serves a different purpose.
But, eventually, if you have raised a query why are camera lenses so expensive? Let's give you a single-line answer: camera lenses are expensive because they are more valuable than the body itself.
If you read the overall anatomy of a camera lens carefully, you will find that the body plays a very minor role. Capturing ultra-clear-quality pictures in real time is the key objective of camera devices.
And it's only the quality of the camera lenses that determines the depth and overall resolution of the image. The camera body only helps with shutter speed settings and other small things.
That's why you will notice most camerapersons recommend using expensive lenses over a camera device of average cost. This way, you will be able to capture an image of maximum resolution.
Still, if you seek an in-depth guide for why lenses are so expensive, the discussion next is exclusively on this topic. Take a look
Why are camera lenses so expensive- Explained in Simple Steps
In the discussion below, we're going to look at the camera lens' specifications one by one which adds more to the cost of this little thing.
1. Complexity of design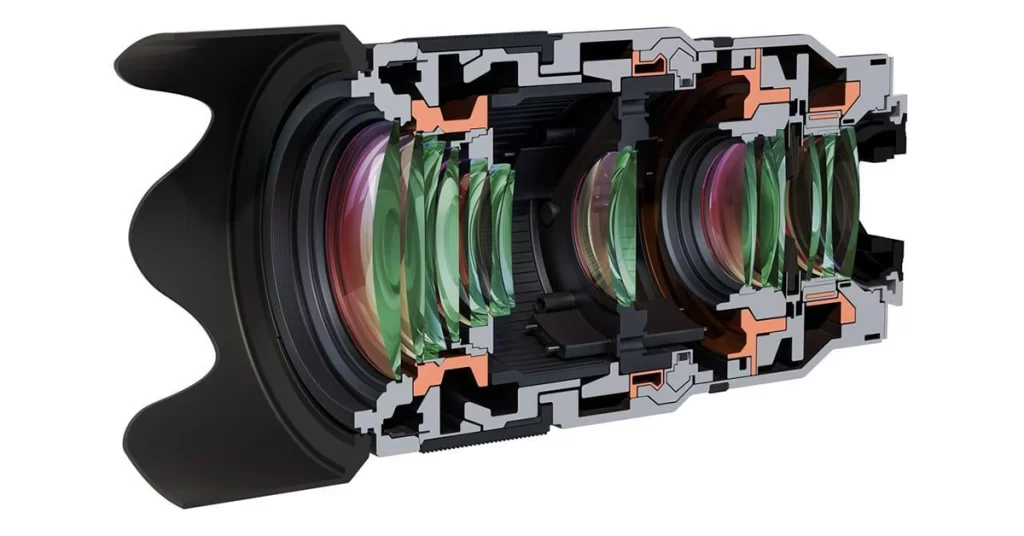 Camera lenses might look basic, as the exterior design is so plain and standard sometimes that everything in the interior is overlooked and less appreciated. As you can see in the visuals, the interior design is highly sophisticated.
We all know that the camera lens' main job is to ensure a precise reflection and refraction of light passing through the tunnel. Only then will the camera sensor respond adequately to light, and if it does not, the goal will be difficult to achieve.
Light filters through the multiple layers of lenses within the lens body. It might work like a standard glass, but not until the lens' position, thickness, shape, size, clarity, and curvature are precisely calculated.
It must fit well with the necessary components and should be lightweight as well. Doing so will enable the cameraperson to move their camera without being afraid of malfunctions.
Additional elements, such as making the lens weatherproof with quality sealing and inserting necessary equipment to protect the lens from dust, dirt, and water, are also evaluated.
When all of these factors are combined, the complexities of the design process increase, and the cost of the lens becomes apparent during the initial stages.
2. The Material
When it comes to material, of course, standard glasses aren't used. Camera lenses consist of a layer of multiple optical glass lenses that, when glued together, form a single precious interchangeable lens. Even though additional components are involved, the optical lens is still the most crucial component to form an interchangeable lens.
Upon the finalization of the plan for the lens design and formation, the people responsible for the formation of the ideal lens piece commence the short-listing process.
According to some sources, there are over 200 kinds of optical glass lenses out there. The creatives carefully select the lens with the best optical properties from this vast selection.
When choosing a lens design, designers or manufacturers particularly consider factors such as aberration correction, resolution strength, background blur effects, contrast, lens size, flare and ghosting, lens weight, cost, manufacturability, etc.
3. The Labor
Once the blueprint, lens material, and overall design for the camera lens layers are in hand, labor work begins. Machine involvement is indispensable in the entire formation process. But the task is impossible to accomplish in the absence of skilled craftsmanship. This particular factor raises the production cost because only a few people are fully specialized in this field.
It's worth noting that only the finest-grade optical lenses are utilized in the formation of top-grade lenses for pro-camera models. During the short-listing phase, lenses undergo thorough testing and examination by skilled labor.
But only experienced engineers handle subsequent procedures. After all, some top-grade lenses are hand-pressed and hand-shaped by only experienced folks. The process is done without breaking the glass components to be used in the high-end lenses for professional cameras. They also undertake visual and automated examinations to look for any potential issues.
The physical assembly of lenses, cameras, and related components is carried out. However, standard camera lenses are assembled by machines. But some premium-quality lenses are manually put together by skilled labor only.
4. Features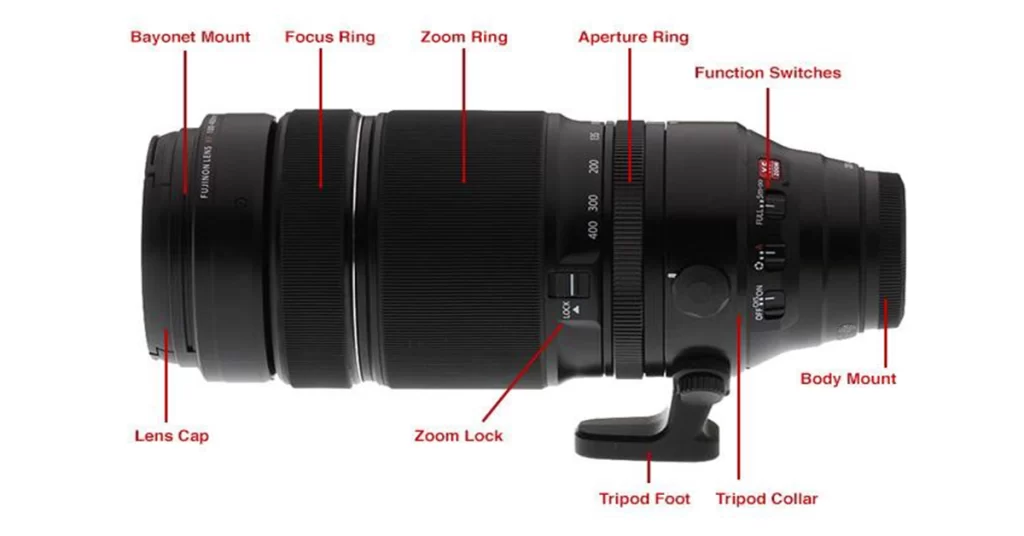 Given below is a list of features that are likely to raise the overall cost of the camera lenses. Why are some camera lenses so expensive might be decided by these features.
Image Stabilization
Image stabilization is a common feature across many camera sets. Users who seek a more stabilized image in a moving event and want to prevent their footage from being blurry when holding the camera would look for this feature in camera lenses.
Non-rotating front element
If you shoot pictures with a polarising filter or you are a landscape photographer, one thing is certain: this function would be a must-have on your camera wish list.
Superior Optics
As said, most optical lenses are required to have features like flare reduction, blurriness, and distortion. Some camera persons even look for a camera that prevents light stray from ruining the image by entering into the lenses. Superior optical lenses mean maximum clarity, for which special R&D is also deployed by most brands. Hence, this should simultaneously answer your query about why camera lenses are so expensive.
Silent Autofocus
Autofocus is the most demanded feature of camera lenses, but not among wildlife photographers, as the grinding noise constituting this feature alerts their subjects. As a result, getting the desired footage can become a big challenge. But some brands are solving this problem with a silent autofocus feature that produces the desired results from the clicked picture.
FAQs
What Makes Camera Lenses So Expensive?
The first thing that impacts the cost of the camera lens is its optics. These lenses are made using special optical lenses, which determine the various levels of clarity of the end product. Second is the design, which is so delicate that most operations are done manually, except on lower-priced models. Any additional feature, like silent autofocus or image stabilization, automatically makes the whole piece expensive. The more expectations you have from the lens, the more expensive it is.
Why Are Photographic Lenses So Expensive?
Well, you should better ask why is photography equipment still so expensive rather than why photographic lenses are expensive. It is because of the equipment used in the lens that multiplies the cost of this staple camera element. A single interchangeable camera lens is made using specialized optical lenses that are selected from over 200 varieties. To give the lens the desired shape, size, and curves, a lot of machinery work is required, which takes time, money, and effort. As a result, photographic lenses have become increasingly expensive.
Do camera lenses make a difference?
Yes. Camera lenses can promise top-grade picture quality compared to a standard mobile camera or any other camera device. These lenses utilize sophisticatedly designed optical lenses in layers. It outcomes in higher resolution images with in-depth picture clarity that provides the cameraperson flexibility to click pictures from different styles and angles. It must answer your query about why camera lenses are so expensive: they are quality-made.
Do camera lenses hold their value?
Yes. Camera lenses hold their own value. Instead, these are the cameras that are more valuable than the DSLR body itself. But why are DSLR lenses so expensive? Well, because they are precisely made through a specialized technique in factories. These lenses carry multiple layers of optical lenses, without which features like aberration correction, resolution strength, background blur effects, contrast, lens size, flare, and ghosting won't be accessible in the camera model.
Are Thicker Lenses More Expensive?
Not at all. Too-thick lenses are indeed more affordable. On the other hand, thinner lenses are expensive and in high demand for their lightweight properties. Thinner lenses can accommodate various visions and have a higher refractive index. The thinner a lens is, the more expensive it will be when it hits the retail market. It also depends on the lens model because, rather than a single lens, multiple lenses are involved in the camera set. If you mean a larger diameter lens with a large aperture, it will undoubtedly be expensive.
Why Are Prime Lenses More Expensive?
Why are prime lenses so expensive? Well, the answer is quite straightforward. Wider apertures, combined with superior optical quality, automatically raise the price of Prime lenses. If you seek additional zoom effects, the cost will rise gradually.
Which Camera Lenses Are Cheap?
Thick camera lenses are comparatively cheaper. But the affordable rates are also decided by the techniques of the brand. If more manual activities were involved in the manufacturing process, stop looking for them; they would be expensive. But if machinery has been used, you might find an affordable deal. Still, it's necessary to evaluate the overall quality.
Conclusion
This is why camera lenses are so costly. However, there's no promising way to prevent this expensive camera gear from being damaged. But one thing is certain: precautions and safety checks for that camera you own are likely to be alleviated from now on.
It's a fact that camera lenses are more expensive than the camera body. Without a quality camera, the entire gadget is useless. You can invest in an average camera body, but you can't compromise the lens quality. The cost is hard to digest, but it is reasonable because many skilled hands are involved in the precise making of a camera lens.