Introduction:
Over the past couple of years, automobile companies have developed sophisticated systems that aids in super mobility for vehicles on the moving highways. On-the-road life has its own unique experience. Taking a break from hectic working hours, most drivers love to enjoy some private moments.
But it seems that the privacy is supposed to be snatched by most logistic companies. These companies are installing an inward-facing camera in the cabs with a reason that they improve driver safety while they are driving.
The camera basically spies on the driver; it analyses their body movements, head position, and overall behavioral changes.
However, most drivers are strongly opposed to this idea and are actively searching the internet for instructions on how to disable driver-facing cameras.
After all, there's a practical reason behind this.
When asked truckers about their perspective on driver-facing cameras, over 68% of respondents agreed, "I would never give up my privacy like this."
Ideally, they are a good thing, but they turn out to be extremely annoying in most cases.
Luckily, they are removable. If you think that these cameras are an invasion of your privacy, these methods for disabling a driver-facing camera might help. Take a look at doing it today.
All Methods for Disabling the Facing Camera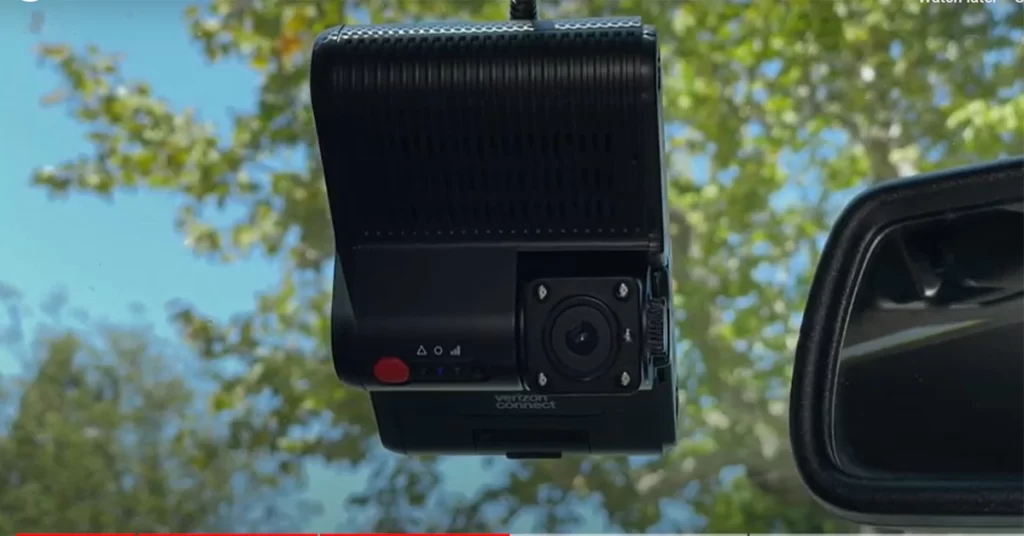 The majority of folks don't want cameras in their cab. You are also counted if you are searching for "how do I turn off the inside camera?" However, it also depends on how you want it disabled. We've compiled a list of several methods for turning off the front-facing camera.
1. Switch off the camera
Turning off the camera is the quickest formula you can use to get rid of the thing. All you need to do is simply locate the camera's power supply and unplug the main cable connected to the camera system. It must turn off the camera instantly. However, if there are no visible connectivity inputs or cables on the camera system, try using a screwdriver.
The camera in most vehicles is screwed up on the surface so that it cannot be removed, stolen, or turned off. Locate the wires and try deactivating the camera with a gentle touch.
2. Employ GPS Blocker
GPS Blocker is another excellent resource for achieving your goal precisely. If you don't want that device to actively spy on you and are looking for an alternative to hiding yourself from the camera without turning it off. Well, a GPS blocker might help you. However, the alternative may not work well on every system, except for some systems with a GPS-enabled driver-facing camera.
If blocking the GPS isn't possible, you even have the option of moving your GPS blocker to another vehicle. Locate the cables connecting the GPS device and DVR and unplug them to achieve the purpose.
3. Make use of a Device Cancellation
If your cab is equipped with a smart drive camera, you can deploy a smart device cancellation for the job. These devices interfere with the radio frequencies in most smart camera systems that are remotely operated. To begin, you must first identify the DVR's communication frequency with an RF meter or other suitable scanner.
Consider checking for interference from metal devices or objects affecting the frequencies. Until the DVR's activity stops, keep monitoring the interfering device. The method might not disable the device, but it will prevent recording.
4. Disconnect the DVR
Whether you are looking for how to disable a Lytx drivecam or a Verizon Connect drivecam, one of the easiest methods that might not disappoint you is to simply deactivate the digital video recording. However, you may have to disable the underboard using a screwdriver to get this job done.
Hereafter, you will locate the DVR system responsible for capturing the footage. It must be available near that power source. Upon successfully disabling the system, the camera must stop taking pictures or videos. The device won't be capturing your images and videos anymore.
5. Use RF Jammers
RF (Radio Frequency) jammers are also the most powerful equipment you can mount within the cab. The device will prevent wireless transmission, obstructing the performance of the camera as well. But it's worth noting that by mounting this jammer, your smartphone and other devices might stop working as well.
So go with this alternative only when you are comfortable with this little downside.
How to disable the driver-facing camera (step-by-step guide)
Here's a detailed step-by-step guide on how to disable the driver-facing camera in case it keeps irritating you 24 hours a day.
Step 1: Start / Stop the vehicle
You are just starting out on your driving journey. Don't like the concept of a camera facing you? Don't like it constantly spying on your activities and your behaviors? Capturing your private moments for employers? Of course, you should act. You can disable that thing by simply following the first step, in which you need to find a power supply.
But, before making a foolish move that could have disastrous consequences, thoroughly inspect the vehicle. It's worth noting that most smart driver-facing cameras start simultaneously as soon as the driver twists the keys and heads to his car. Some dash cams keep spying on the driver, monitoring 24×7 hours of activity inside. So first, identify your camera type.
Step 2: Hide the camera lens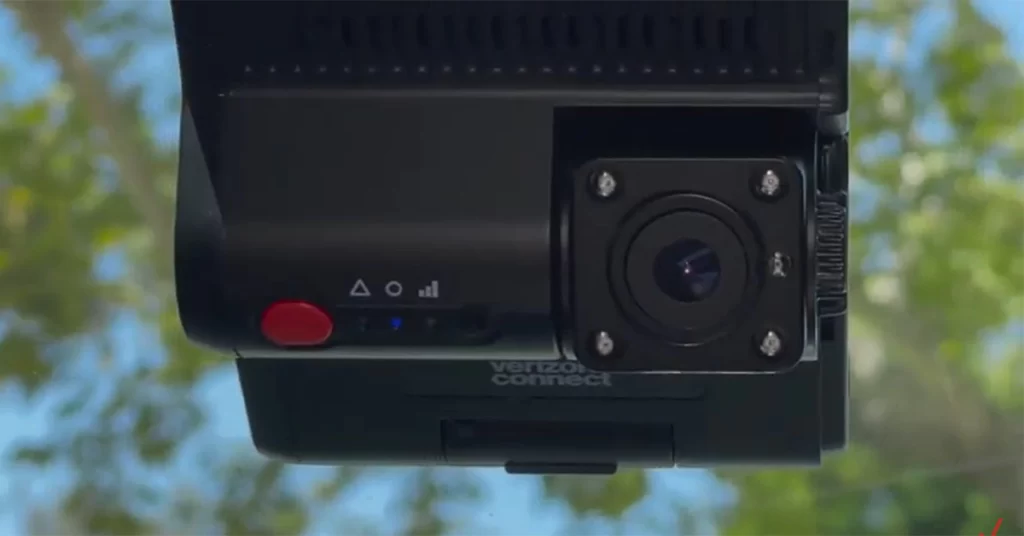 Worth noting! Most USB- or battery-powered cameras might still be capturing your videos and sending your footage to the truck company continuously, and you are unaware of that. Your activities with the camera will also be recorded.
For more safety, you can mount a sticker on the camera's lens. Even though it is a wired front-facing camera, you still can't take a risk.
So keep a sticker or buy one right now from the nearest store to keep this spying dude at bay. This might solve the visual troubles for you, but what about the voice? It is being recorded. Thus, a complete solution is essential. Follow the next steps to get it done.
Step 3: Identify the Power Source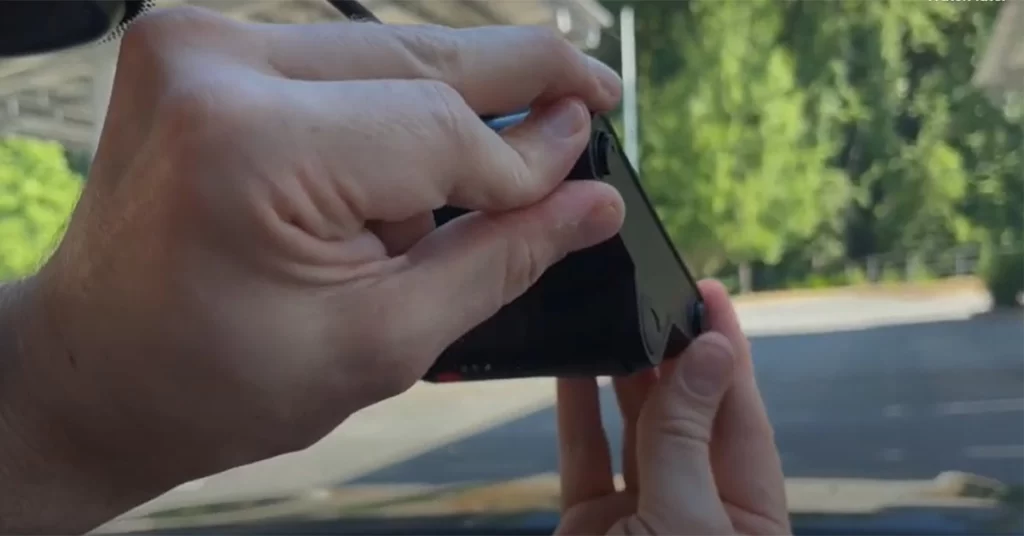 Find the power source for the camera. Nah! Try not to harm that wire or anything attached to the camera. Professional-grade dash cams with high-quality pictures cost from $80 to $500. So carefully locate the camera's power supply and unplug it. Most camera devices can be switched on and off from the sides. So if they are carefully located, the frustrating experience is also avoidable.
But unfortunately, logistic companies are smart. They aren't mounting cameras that can be turned off that easily. So you will have to think about something extra to turn off the smart drive camera. Well, it can be a screwdriver.
Step 4: Use a screwdriver and pull it out.
A screwdriver comes to your rescue in case that camera is literally well built and tough to open. However, a minor downside here is that if your cab doesn't have a screwdriver for the job, you might still struggle for your life. If no cables are visible, there's no alternative but to open it up.
Keep a micro screw driver on hand that can fit into and lift screws from the camera. But you will have to be very careful. The device could have been mounted so firmly to the front window or to any metal surface of the cab that it would be inconvenient to disassemble it. Eventually, if you are successful, you can head to the next step, which is about disconnecting the DVR.
Step 5: Disconnect the DVR
The camera pointed at the driver's face is literally annoying. It is the case's fundamental issue. So it's better to remove it now. The digital video recorder will keep ruining things for you until it is properly deactivated.
The recording function should be working fine without any problems, even if you have opened up 50% of the device's body. However, now that you've opened the device with a screwdriver, remove the small camera from the system. Be careful! None of the camera parts should be damaged; otherwise, issues can arise.
Removing the camera is the best way to disable a driver-facing camera, but it must be detachable. Otherwise, you'll need to get another screwdriver to loosen the device's small screws.
Step 6: Don't Skip the Preview on the Display Screen
Modern driver-facing camera systems will have a dedicated mobile app and website. So figure out which application belongs to the camera that has been mounted on your car or truck. Install the app and link the camera with your mobile application. Separate tutorials are always provided by the brand on their application and website regarding this.
If the camera is disabled, no preview will be generated. But if it were enabled, the preview would be available. For more confirmation, you can run the preview on your mobile device prior to disabling the camera. If it was working before and not now, congrats! You have successfully disabled that monster.
You can even watch this nice trick by Erik Smith, which might help you rid yourself of this most annoying problem as a driver.
FAQs
How do driver-facing cameras work?
Driven-facing cameras working can vary from one brand to another. The main goal of all of them, however, is to monitor the activities of truck and cab drivers. It enables an employer or boss to monitor his employee's behavior in real-time.
How to disable a driver-facing camera?
A single piece of black tape or a sticker can be used to cover the driver-facing camera. But it might not solve the issue. There can be a hidden camera or other hidden features that might be making your voice heard by someone you are unaware of.
How to turn off the mirror camera?
You can disable the mirror camera mounted on your car using the on/off plug. Alternatively, you can simply unplug the device entirely from its power source. If it is a wireless device, you must have a screwdriver ready to perform more deep procedures.
Can the dash camera be turned off?
It depends on the brand and overall mechanism of the camera. Most dash cams are turned off automatically when the car is off. But if you want to keep it off when the car is running, you will need to follow some special methods.
Will leaving my dash drain my battery?
Yes. Leaving a dash cam on can drain your battery. If your camera is plugged into an adaptor around the clock, it will drain your battery sooner.
Are drive-by cameras legal in the UK?
Certain conditions apply. Driver-facing cameras are legal in the UK, but only when an employer is using them responsibly and not involved in any international act to exploit a driver. It means that wearing a camera on your head around the clock isn't required.
How do I turn off the front camera?
You can turn off the front camera by simply unplugging the device from the main socket or disabling the DVR from the driver-facing camera. But before you do that, make sure you have a tape or sticker attached to the camera's lens to prevent any mishaps.
Conclusion
Imagine a situation in which you arrive at work on a beautiful day, gearing up for your cross-country trip. Before heading out, you hear from your boss that all trucks and cabs will be camera-enabled now. The driver-facing cameras will keep monitoring your behavior and spying on you while driving. Of course, there's nothing that might have saddened you this much before. But what if the recording is not reaching them?
The step-by-step guide has taught you a lesson on how to disable the driver-facing camera. So use the guide to get rid of your problem right away. But since the camera device's specifications can vary, it is necessary to use these steps carefully.