Usually, the design of the On-ear headphones is smaller than the usual over-ear headphones. It has slightly less effective noise cancellation and less bass.
On-Ear Wireless headphones are also known as closed-back, earpad, open-backed, Supra-aural headphones. It's perfect for those people who prefer the smaller earphones with a comfortable fit. The on-ear headphone is perfect for those listeners who still want to hear the outside sound such as for office environment.
Best On-Ear Wireless Headphone
On-ear wireless headphones are comfortable and versatile, portable, offering them a great choice to bring in the office or the library. The price range of these are from budget to pricey, you have a huge variety of features and quality to pick from.
Comfort is the first priority and available with many pairs including wireless Bluetooth connectivity. Over-ear is better for noise cancellation but on-ear is better in the noisy environment so that you can hear the outside talk or noise.
Many on-ear headphones perform admirably as well if they are intended to maintain the silence. It is an excellent on-ear wireless headphone to provide comfort and totally worth it.
Beats Solo3 Wireless On-Ear Headphone Review
Solo3 on-ear Wireless headphone looks almost the same as the Beats Solo 2 Bluetooth because Beats hasn't updated its outside design. It delivers Beats brand-worthy strong bass, the Solo3 has an overall good lively sound profile to listen to fun.
The big change happens on the inside:
The Beats' Solo3 uses a custom Bluetooth chip of Apple's new W1, which increases battery life dramatically and provides easy pairing with Apple devices, including the AAC as well as aptX codecs.
This headphone just works great with other Bluetooth enabled devices such as Android and provides similar battery backup. This has the best backup life of any other Bluetooth headphones which I've tested. Beats' Fast Fuel feature also provides you 3 hours of backup time by a 5-minutes of charging only.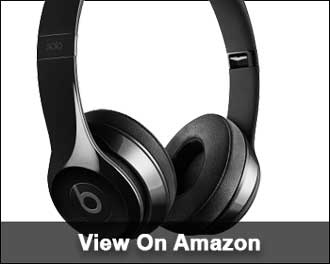 Solo3 On-Ear Headphone
Best On-Ear Bluetooth Headphone
Totally Worth It
Fit
On-Ear
BLUETOOTH
Yes
MICROPHONE
Yes
Wireless Range

33 feet

Noise-canceling

Playback

40 hrs

Weight

215 gm
Beats hasn't upgraded its sound quality. The Solo3 headphone sounds very good for an on-ear wireless headphone and perfect for bass lovers but runs to avoid being too boomy. But, it's sound actually isn't as clean as Beats balanced Studio Wireless over-ear headphone.
This headphone is designed to be used outdoors and the new bass came in handy on the street and was playing with a lot of ambient noise. The headphones quietly seal out a sufficient amount of sound, though some ambient noise leaks in and the more bass don't sound as emphasized outside. however, you actually need to hear it in quiet rooms or when you need to hear the outside sound such as office, you can use this.
Beats Solo3 has a built-in mic for making decent calls. However, the Studio Wireless has an improvement in this department. Including the Studio Wireless, some headphones under this price range provide improved performance in communication and noise-canceling features. This Beats Solo3 is not designed for this purpose in that class.
Comparing models Bose SoundLink Wireless On-ear headphone, Plantronics Backbeat Sense (lower budget), Sennheiser Momentum 2 On-ear (with active noise cancellation) and Beats Solo3. BackBeat Sense and the Bose SoundLink are most comfortable on-ear, Beats Solo applies a little less pressure and the Plantronics is definitely the best value and budget-friendly.
Beats Solo3 is an adjustable fit and has comfort-cushioned ear cups which made it for everyday use. Beats Solo3 Wireless on-ear headphone gives the best, the emotionally energized listening experience —without the annoyance of cables. The headphone provides premium playback time with fine-tuned acoustics that maximizes breadth, clarity, and balance.
Features a nice up-to-date style and a number of color choices, Solo3 keeps a minimalist design that isn't too flashy. The earcups can't fold flat, but they have a reliable and flexible swivel range that is enough to add comfort without delivering the construction too flimsy.
Beats Solo3 On-Ear Wireless Headphones Full Image View
It's true, there is a bunch of plastic, but the quality of the overall build seems very solid. The reinforced and padded headband also seems sturdy.
The earpads are outfitted in soft leather. The Solo3 stay on the ears without creating too much stress applied to the uppermost part of the ear. This is excellent if you use glasses.
The sound quality of Solo3 in wireless mode is better than the wired mode. These headphones are a clear advancement in the Beats list, and great for enjoying to most modernized styles of music. Interestingly enough, hearing in wired mode will produce a sound that is not actually as strong or crisp compared to other premium true headphones.
What's in the Box?
Beats Solo3 wireless
USB charging cable
5mm stereo audio
RemoteTalk cable
Warranty card
Carrying case
Quick start guide
The Bottom Line: The Beats Solo3 on-ear Wireless headphone is pricey but is one of the best headphones. If you need high-quality audio and a 40-hours playback charge in an attractive and stylish design, the Beats Solo3 is the perfect fit.
Beats Solo3 On-Ear headphone Pros and Cons
Pros
lightweight and very comfortable
Strong bass response
Energetic, punchy sound
Excellent wired & wireless audio quality
Long battery life( 40+ hours)
Excellent compatibility with Apple products
Easy to operate remote control built-in the right earcup
Cons
Assembly does not fold flat
Earcups can get warm
It's expensive