Have you put your AirPods in the charging case, but you realize that only one Airpod is charging?
The Airpods, as we know, are specially designed for charging only in their charging case. But sometimes we get to know that the left Airpod is not charging.
The question that immediately hits in mind is- have my Airpods got broken? Well, it's not necessary!
Sometimes it is the right Airpod not charging due to some circumstances, and sometimes we feel that the Airpod case is not charging, but Airpods are.
The reason could be any faulty cable, dust, and debris in Airpods. In this article, we'll highlight some of the reasons for Airpod not charging and how we can fix it.
Check the Charging Port
When your Airpods are not charging in the case, then make sure to check the charging port first. There are nine connectors in the charging port, and when one of them is blocked with the dust or debris; then, it stops charging your Airpods.
Read Also: Three Things to Look for Best Bass in-Ear Headphones
How to inspect the charging port?
To examine the charging port, you can use a flashlight. If you find some dirt and debris in the charging port, then you need to clean it.
Pro-tip to clean it
Gently brush it with a toothbrush to remove the debris. But make sure not to over brush the electric charging area as it may damage it.
Once after cleaning them, put back to charge. It will start charging again.
Check the charging cable (Lightning cable)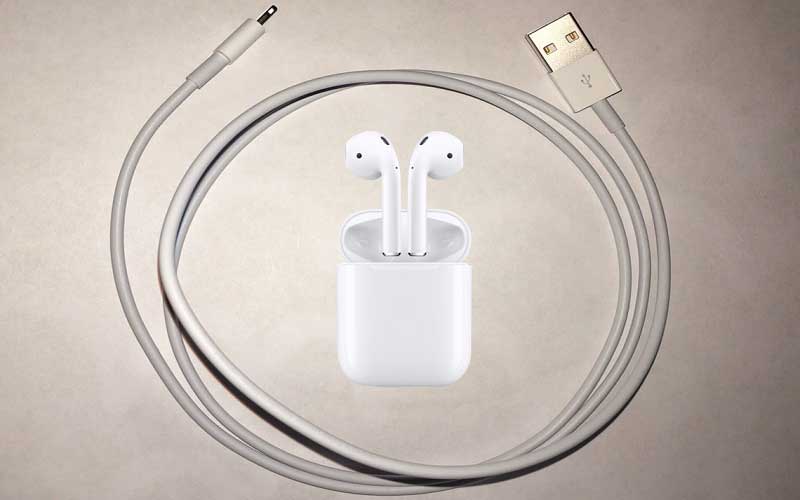 Before coming to a conclusion about why Airpods are not charging but Airpods are, make sure to inspect the lightning cable. Sometimes these lightning cables get damaged, and this is the common reason for one Airpod not charging.
These cables are very tricky to inspect because they sometimes don't seem broken even.
Read Also: How to Fix Earbuds That Work on One Side – Step by Step Guide
How to check the lightning cable?
Use a flashlight and take a keen look at both ends of the lightning cable. And if you don't see any tear and fray in the lightning cable, then try to charge using the USB port. If one Airpod is charging and not another, then maybe the cable is not too troublesome.
Moreover, you can try to charge from your family member cables; if it works, then the lightning cable is not working.
Tips to fix it
If your lightning cable is in warranty, then you can ask for a genuine Bar to repair it or change it.
Also, be aware while purchasing the low-quality lightning cable from the unauthorized sellers. Apple has a specific MFi certification, so be sure to check it before you buy the lightning cable.
Check whether the charging case is charged
There is also a possibility of why the left Airpod is not charging in case. And this possibility is the charging case is not charged correctly. It may be a situation of why one Airpod is charging.
How can we charge the charging case of Airpods?
For charging the charging case, you need to plug in a lightning cable into the connector and plug it into a USB port or a charger.
It takes a few hours to get fully charged.
Pro tip
We can also charge the Airpods in the charging case while charging it too.
Check This: How to Choose Best Headphones (Wired & Wireless) – Step By Step Guide
Clean your charging case and Airpods timely
Sometimes, the dirt, debris, and dirt particles block the connecters of the Airpods and Charging case. It can also affect their charging and may even create hardware troubles too.
For instance, if there are dust particles in the charging case, then possibly only one Airpod charging takes place.
How to clean the charging case and Airpods?
Take a soft microfiber cloth, which is free from lint.
Gently wipe out your charging case and Airpods with this.
For connector debris, you can also use a soft toothbrush to remove dirt.
Pro cleaning tip
Do not use solvents and moistened cloths for cleaning the Airpods and the Charging case.
Sometimes the Airpods may encounter the bugs, which may be a reason for only one Airpod charging. It gives them a fresh start to start and fix the charging issue.
Tips to reset the Airpods
All you need is to press the setup button and hold it which is on the back of the charging case
And release it when you see the status of the flashlight that amber within a few minutes.
Now, after a few minutes, your Airpods are reset, and now you can check again for charging whether it would fix up the issue.
Connect the Airpod in the charging case and see the issue of charging has been resolved or not.
Charge Airpods accurately
Many of us leave the Airpods uncharged for a long time, and this may create trouble. So always ensure to charge your Airpods enough so that they can function for a long time.
Read Also: Why Apple's Air-Pods microphone not working? Causes and Solutions
Charging tips
Put both the Airpods accurately inside the charging case.
Connect with the connector, and when the light turns green, it indicates that the Airpods are not charged.
Repair the Airpods
If the above tips do not work, then there is a possibility that the Airpods are broken. So, the thing left if to visit the nearby Apple store.
Pro tips for repairing
Visit the website of Apple to book an appointment with your nearby Apple store.
Also, make sure to check whether you have a warranty period or not. If you have, then it will help you in saving debts too.
The Airpod charging trouble: Fixed up!
If your left Airpod is not charging, then there may be several issues that we have explained above. Now, as you have tips for fixing the charging troubleshoot, you will be able to fix up your Airpod charging issues.
We hope that this article resolves the Airpod charging trouble to an extent.
However, if the condition is still not fixed, then you have the last option of visiting the Apple store and repairing it. But make sure to check the troubles mentioned above before visiting the Apple store.