If you have straight hair and looking for a new style that complements you, then curling your hair is the best option.
You can curl your hair at your home with the help of a few tools and a hair curler. Nowadays, hair curlers consist of curling wand and curling iron, but you have to choose one.
We know that it is a hard decision and that is why we are here to assist you in making the right choice.
In this article, we have compared hair wand and a hair curler to help you handpick the best one. Go through the article and know the core differences between these two hair curling products.
Also, we have explained "how to use" process for making things real smoother for you.
Curling wand VS Curling iron
We have compared both of these products based on the features, functionalities and physical appearance.
Features you will get into a curling wand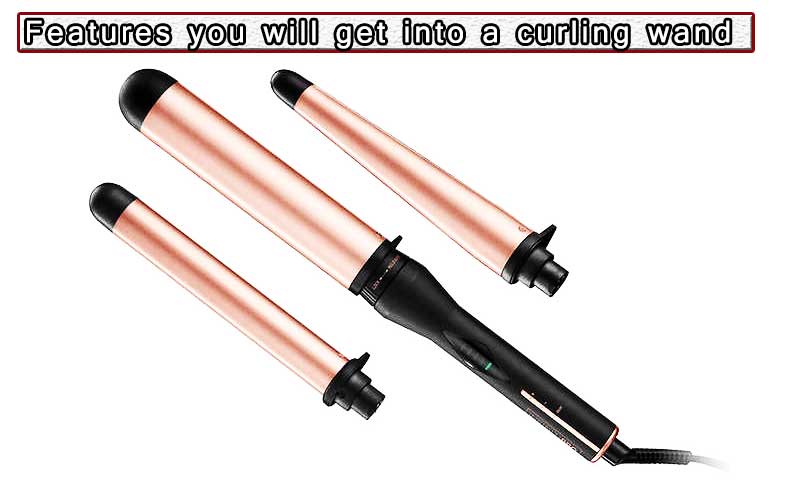 Rapid heating:
The curling wand gets heated quickly and it can cause some troubles. Whenever you are using a curling wand, make sure that you are wearing some protective gloves. If you are not habitual of using a wand, then you need to be extra cautious while using it.
Clip less design:
Unlike curling iron, wands have no clips. It means that you cannot tuck it in your hair during the process of curling.
Single heating option:
In the case of a curling wand, you will get only one heat setting that is controlled using the on/off switch placed on the handle. You can lower down the temperature of the wand by turning the machine off.
No option to change barrels:
Curling wand comes with a barrel attached to it, and you cannot change the barrel as there is no option provided.
Features you will get into a curling iron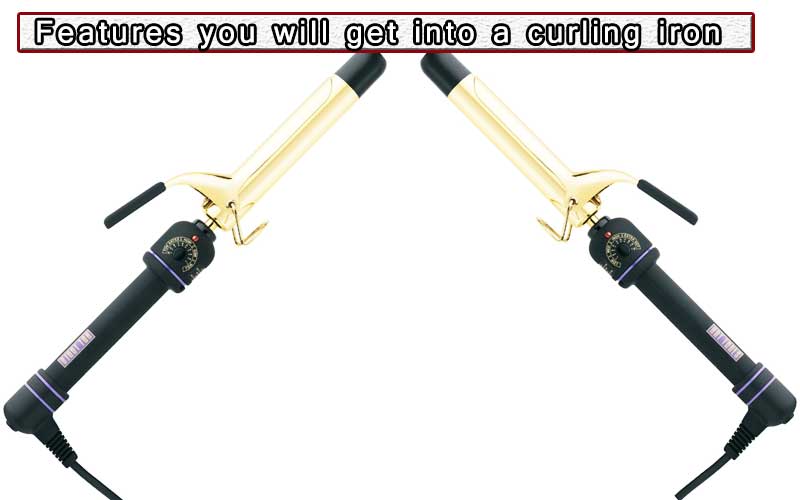 Heating capacity:
You can get your curling iron heated completely in a couple of minutes. Generally ,curling irons have fast heating technology that heats them on the go for delivering you with curls that look amazing and beautiful. You can use flat iron as an alternative.
Size of barrel:
There are different barrel sizes available in the market. It is up to you and your preference. If you want heavy smaller curls, then you should go with lighter curling iron. On the other hand, for the ladies who wish to have heavier curls should buy a thick cylinder curling iron.
Interchangeable barrels:
Changing the barrel is a great option that you will find only in curling irons. You can change the barrel as per your use. The process to remove and fit the new barrel is very simple and you can interchange the barrels on the go.
Multiple heat adjustments:
Curling irons have the functionality to set multiple temperatures based on the need. Some curling irons have only one temperature setting option, whereas some machines have temperature settings with 10 adjustment options.
Heating plate:
In a curling iron, you will generally see these types of heating plate material i.e. tourmaline, ceramic, and combination of tourmaline and ceramic. The curlers that are made with ceramic heating plate have the feature to protect the hair, whereas the curling machines that have heating plates made up of steel, or iron are prone to hair damages.
Read Also: Tips for How to Straighten Hair with a Flat iron
Core differences between curling wand and curling iron
We have compared curling wand and curling iron based on their structural appearance and ease of use.
Faster heating:
When it comes to faster heating, curling wand wins the league with a huge margin. We are not saying that curling iron takes up a lot of time to get heat. But curling wand is very fast and can deliver the results in a short time frame.
Smoothness:
When it comes to smoothness, curling iron should be your priority. The curls made with iron have the luster and the crispness which is required in the curls. In case of a curling wand, the smoothness is less as compared to curling iron.
Hair clip:
As mentioned above, curling iron comes with a clip and curling wand has a clip less design. The clip is meant to hold your hair at a place so that it can get the perfect curl. But the mark of clip is visible in your hair.
With a curling wan,d you don't get the visible marks of clip which is a better option for those with fine hair.
The process of using a curling iron
Using a curling iron can be hard or easy based on the type of product you have purchased. If you have bought a simple curling iron with a clamp, then you can use it easily based on the process described below.
Plug in the switch and let the iron get heated for some time.
When you think the iron is getting hot, open the clamp with the clamp button.
Now wrap your hair stands in a way that it gets the shape of curl you are looking for.
Close the clamp and let your hair wrapped for about 8-10 seconds or based on the heat in the iron.
Now open the clamp and pull out the iron smoothly.
Repeat the process until you get the desired curls. You can follow up the entire procedure with rest of your hair strands and can curl them with the help if a curling iron.
Read Also: How to Brush Out Curls Without Ruining Them
The process of using a curling wand
The procedure of using a curling wand is somehow similar to using a curling iron.
Heat the curling wand for some time (keep in mind that it gets heated very faster).
Hold the wand in one hand and wrap your hair strands.
You need to hold the tips of your hair strands because there is no clip in a curling wand.
Use a glove to ensure that there are no finger burns.
Remove the curling wand gently within 5-6 seconds.
Repeat the process until you get your hair curled.
Pros and cons of a curling iron
There are some pros and cons attached to both the products. Have a glimpse on the advantages and disadvantages to make a better decision.
It gets heated slowly
Curling iron gets heated slowly and the heating time can be about 3-5 minutes based on your iron and the manufacturer. You have to wait till the time it is completely ready to use, otherwise you will not get the perfect curls with the great hold.
Costly
When it comes to price, curling irons are on the negative side. Some curling irons are extremely expensive and buying them is not an option for everyone.
Safety
Curling irons are safe due to the clamp mounted on the machine. Also, curling irons get some safety features lie auto-cut and temperature control which is a great option to save the hair from any damages.
Ease of use
A curling iron is easy to use. After reading the instruction manual, even the beginner can use it nicely. There is no specific protocol as you can curl your hair while using the curling clip.
Better curls
In case of curling iron, you will get better curls that last longer and have smoothness in them.
Pros and cons or a curling wand
Faster heating
The best part about a curling wand is its heating capacity. It gets heated in a couple of minutes and is ready to be used for the curling process.
Chances of finger burns
There is no sort of protection on a curling wand and if you are not a professional, then there are chances that you can hurt your fingers.
Simple curls
With a curling wand, you will get basic curls that have a mild hold and are not as crisp as you will get with a curling iron.
Easy on pocket
Curling wands are less expensive when compared to curling irons. For all the people out who are looking for a budget friendly curling machine, a wand is an excellent option.
So which is a great buy- a curling wand or a curling iron?
Based on the difference mentioned above, you can conclude whether you need a curling iron or a curling wand. Let us help you again.
If you are looking for something that can deliver you a professional look and tighter and bouncy curls, then a curling iron is a great option. A curling iron is also good for the beginners who don't know how to curl their hair.
On the other hand, if you have less time and want to curl your hair on the go, then you should go with a curling wand. A curling wand is able to deliver faster results with nice curls.
Lastly, it is completely up to you and your choice. You can buy any of this curling equipment and can enjoy a happy life with your happy curls. Make sure to use all the heat protecting elements before you start curling your hair.
What to Read Next: